A

n-Magrith Erlandsen



lives in Seattle. She is an Artist, Art teacher,
Tarot reader and Performance artist.
Her fantastic Tarot paintings
are the focal point of this interview.

by Kristin Over-Rein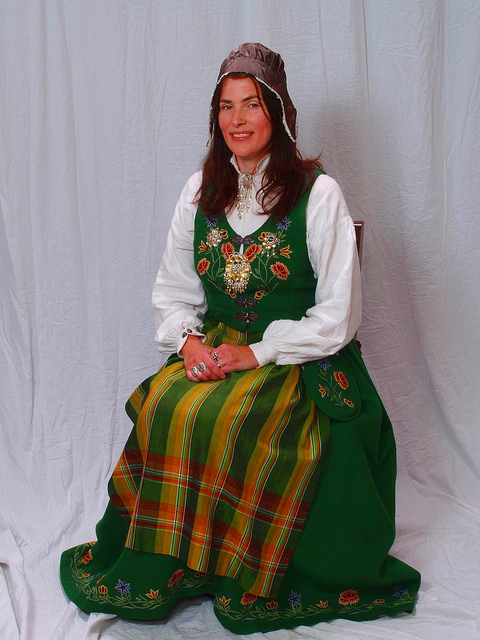 An-Magrith in her traditional Norsk Nordland bunad

inherited from her grandmother, Magnhild, who lived to be 100.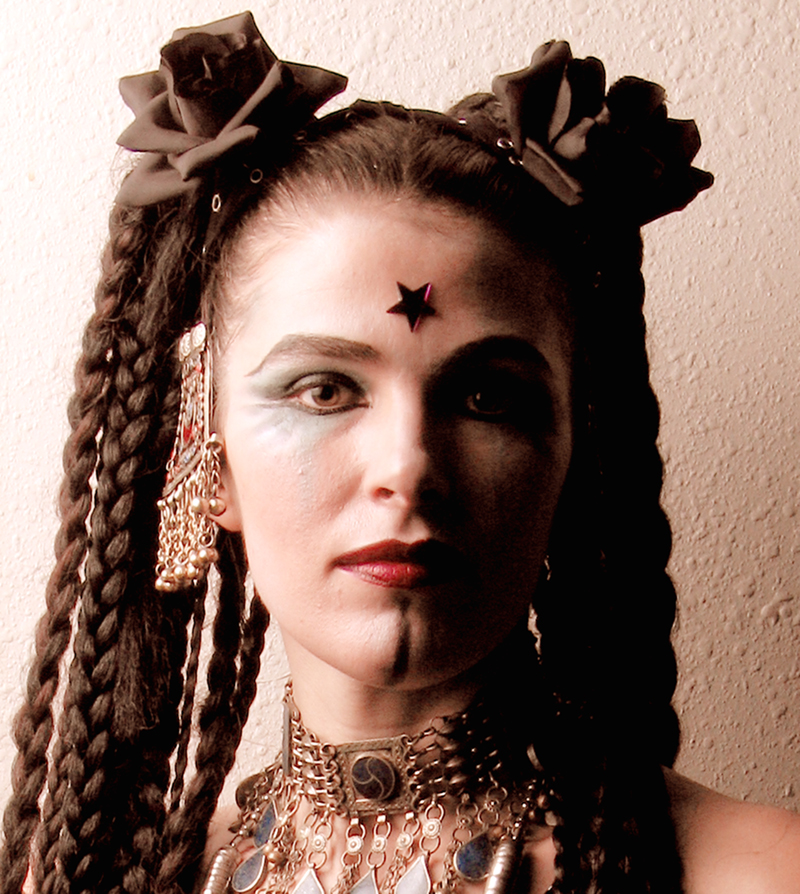 Magi

You seem to be Norwegian, but are you really?
How did you end up in USA?
I am 100% Norwegian, even though I was raised in the USA. My parents came here from Oslo and Sarphsborg because of my father's work with an American hotel company. Both my parents and my brother are Norwegian citizens, but since I was born in the USA I have both Norwegian and American passports. We have always spoken Norwegian together. I have never studied Norwegian in school, but I taught myself to read and write Norwegian from books and magazines. My whole family lives throughout Norway. I would like to move back there one day, especially when I see that the artists are better accepted there than in USA. And also now that I have discovered that Tarot has become popular in Norway also. However, the cultural and religious freedom on the West Coast of America in particular Seattle and San Francisco, is conducive to creating art from the so-called dark side. Though Norge has "Norwegian Black Metal"...which I find inspiring in itself.
How did your interest for Tarot begin, and which deck is your favorite?
My parents, especially my father, was interested in Tarot and other spiritual ideas. When I was six years old I saw the "Tarot of Marseilles" cards, and became totally enamored with the amazing colorful pictures. Since I was two years old, and could hold a pencil, have I been into all kinds of colorful drawings and figures. Later my father gave me his "Tarot of Marseilles" deck. It is still my favorite. I feel they are most true to the original meaning, symbols, colors and composition. But it is only the Major Arcana that is useful, since the Minor Arcana is illustrated with only symbols. But since then Pamela Coleman Smith interpreted the symbols in the Rider Waite/Smith deck at the beginning of the 1900's and now most Tarot cards today are illustrated with real pictures in the Minor Arcana. It is important for me, who reads Tarot cards for clients, that all the pictures in the Tarot are detailed and clear. I use "The Golden Tarot" by Kat Black. I also like "Navigators Tarot of the Mystic Sea" by Julia A. Turk. I also use my own cards, that are not complete yet, in shorter readings. They are called "Tarot of the Pomegranate" and have the deepest meanings for me, since I have lived every single card, and have developed a very deep inspiration and connection in me to spirit as a result.
What do you use Tarot for?
Foreseeing the future/awareness/meditation, etc.
Do you have clients?
I use the cards mostly for personal awareness in different situations, and where I am now in my life. But I also use the cards for meditation and foreseeing the future. Tarot also stimulates my fantasy as an artist for new ideas in my oil paintings. I have always been interested in helping people on their journey in this physical world. Yes, I also do have paying clients, that come to me in Seattle, also many clients from USA and the rest of the world through my website www.tarotofthepomegranate.com. I have many returning clients, and I am told my readings are right on target.
How did you get the idea to make your own Tarot cards,
and where do you get your inspiration?
I believe when I first saw those "Tarot of Marseilles" cards, when I was around 6 years old, that it became embedded in my subconscious. When I was finished with my studies at Cornish College of the Arts, where I recieved a Bachelors of Fine Arts degree, I began my large project to paint my own Tarot cards. It helped also that I have an Associates degree from Art Institute of Seattle. My oil paintings of the Tarot (the Major Arcana) are 3 x 5 feet. Much of my inspiration comes from other artists, among them Odd Nerdrum, after I saw his show in Seattle. The painting "Death" was inspired by a sculpture by Gustav Vigeland. Sometimes I get my inspiration from the other side, the spiritual side we all come from. Dreams and visions from other lives and from nature play a big role. The atmosphere here in Seattle is dark and rainy, but full of inspiration for me. Astrologists say that Seattle is a "Scorpio" city.


(Interview continues below after the pictures)



An-Magrith presents "The Emperor"

and various other of her paintings at
"Northwinds Art Gallery" in Port Townsend, 2007.

photo by Poul Costinsky.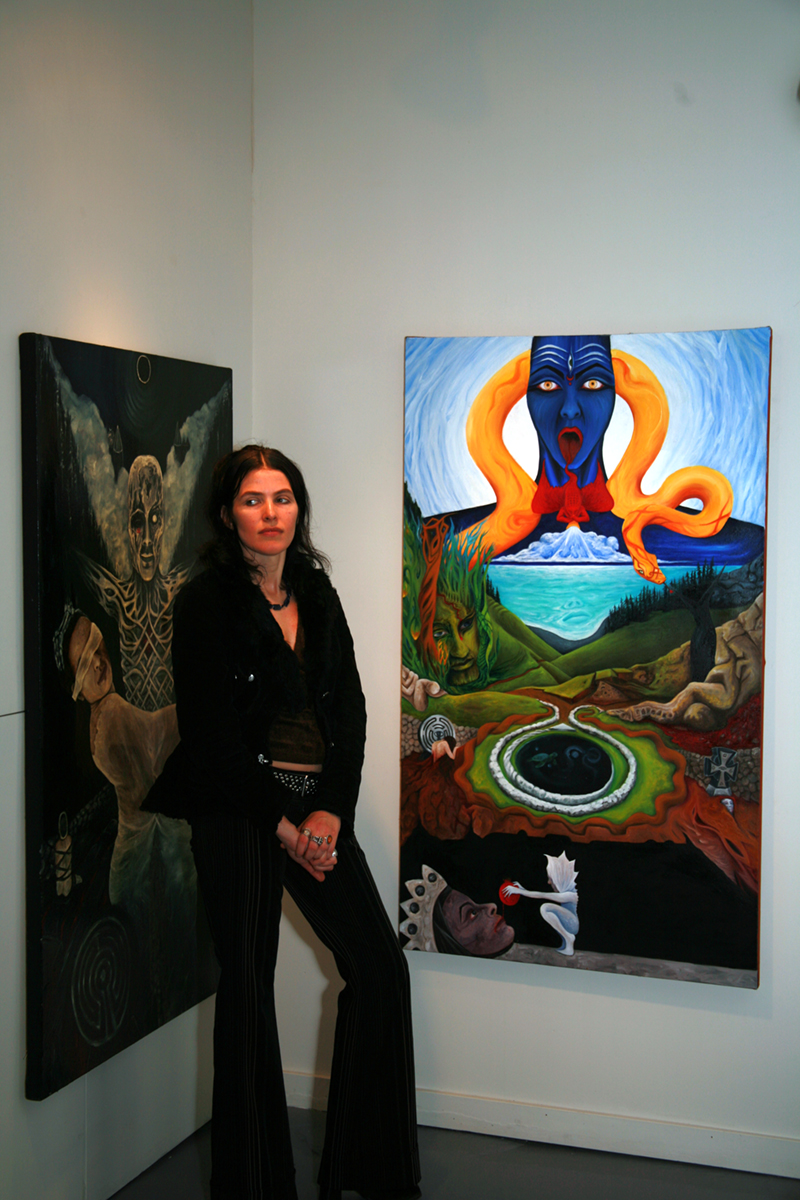 Art show in Seattle, 2006.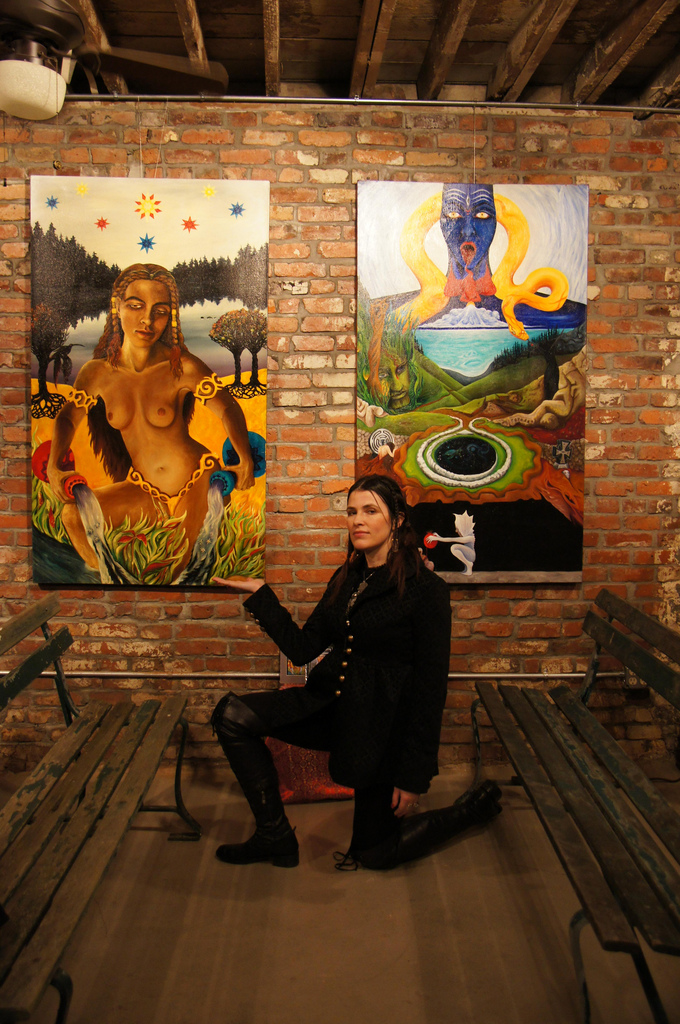 Art show in Georgetown, 2011.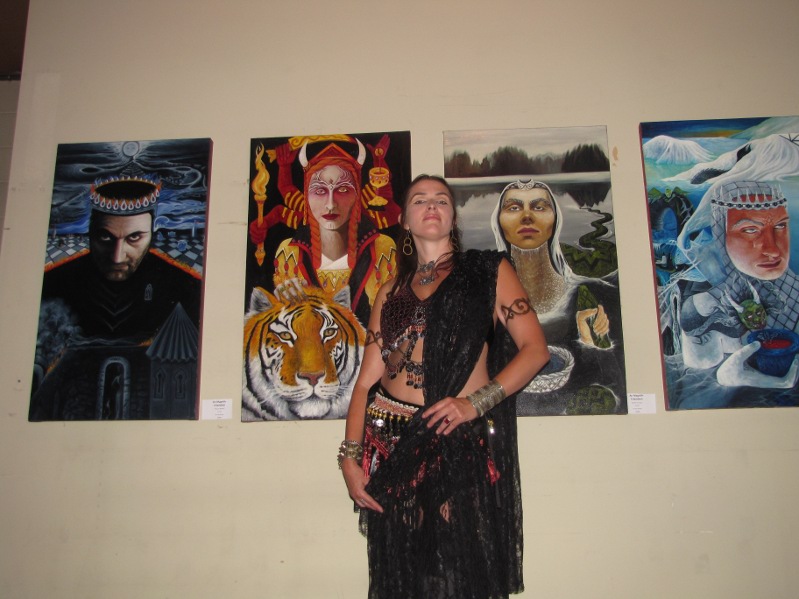 Art show in Seattle, 2010.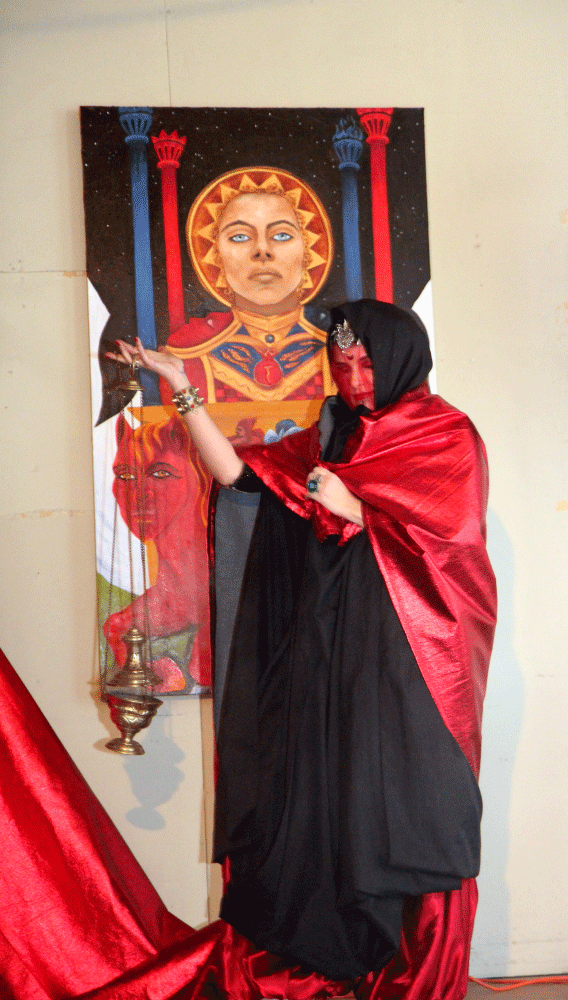 An-Magrith presents "The Chariot"

integrating performance and art in Seattle, 2012.
This was the last painting of the Major Arcana to be completed.
photo by Stanford Wilson.



Will you describe your process in creating the cards,
from the first design until the cards are out with your clients?
I don't follow any specific sequence in choosing the cards. The cards choose me and I go with it. I think about the card that has chosen me, and I read about it in all the books that I have on Tarot - especially the book "Meditations on the Tarot" written by an anonymous monk - it gives me visions on the deep meanings of the Tarot cards. It is important that I stay as close to the original meaning as possible, and bring them to a new level. I do not want to lose the cards magickal strength, something that often occurs in many of the Tarot cards made today. I paint the cards as oil paintings. The Major Arcana is painted on canvases that are 152 x 192 cm. The Minor Arcana is 54 x 85,3 cm. The Court cards are 109,7 x 61 cm. It can take from two months to two years to finish one card. When the pictures are finished I take a high resolution digital photo of the card. The card then is downloaded to my computer, where I use Photoshop and fix the picture until it is as true to the original as possible, and the results are very good. I've made the first "Tarot of the Pomegranate" deck with the red pomegranate-frame. I've printed out a limited edition of 200 of this deck, they are all numbered and signed. Most of the cards are sold on my website, but I've had good sales at shows in galleries and specialty stores. I teach art classes all year round in drawing and painting. After all the art was taken out of schools over here in the US there is now a large need for art, and happily my classes are full all year round.
How is the Tarot community / interest in Tarot where you live?
Interest in Tarot in Seattle has always been high. In these times especially, with all the big changes, there are more and more people that are seeking help of a more spiritually aware kind and of their individual soul's journey. It becomes like a ritual for people, those that come to me have already decided to take control of their spiritual life, and I am but a guide in their journey.
Is there anything else you'd like to add?

I
am a theatrical bellydancers, and I also collaborate with other troupes, I am part of an experimental bellydance theatre troupe now where we interpret the Tarot using my deck, in the form of dance. This form of ascension thorugh dance and art is growing to be quite popular in Seattle, and perform in many different clubs, theatres and private parties in the city.




W
e thank you for the interview
and hope we get to see
A
n-
M
agrith's
Tarot and Performance Art in Norway one day!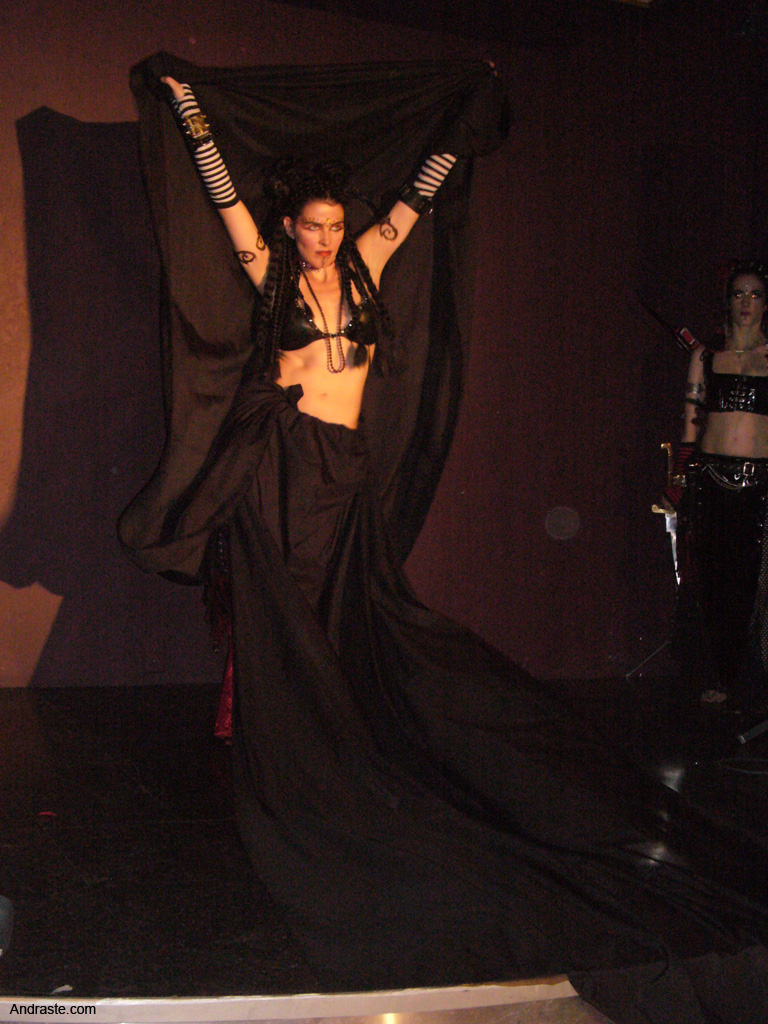 Magi's double veil performance in Seattle.

photo by Patrick Andraste, 2007.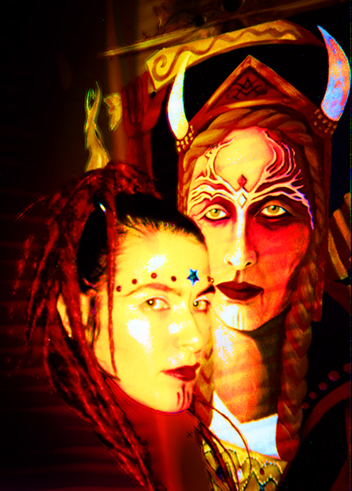 An-Magrith and the "Queen of Wands"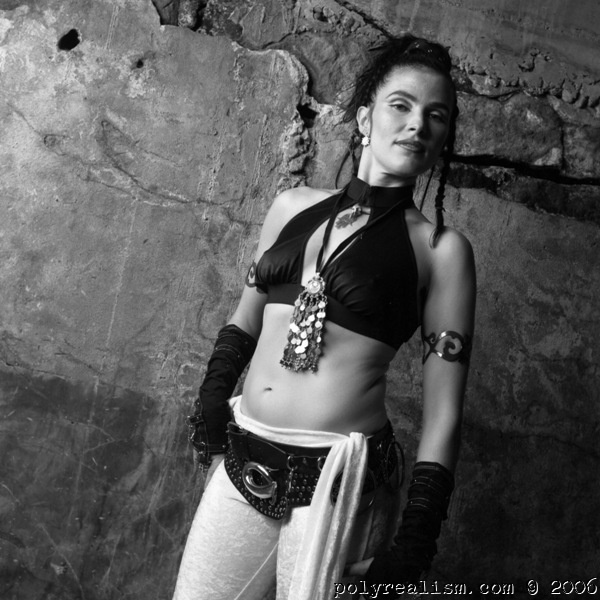 Magi, performance ready at a Moonday event at the
Fenix Underground, Seattle, 2006.

photo by Poul Costinsky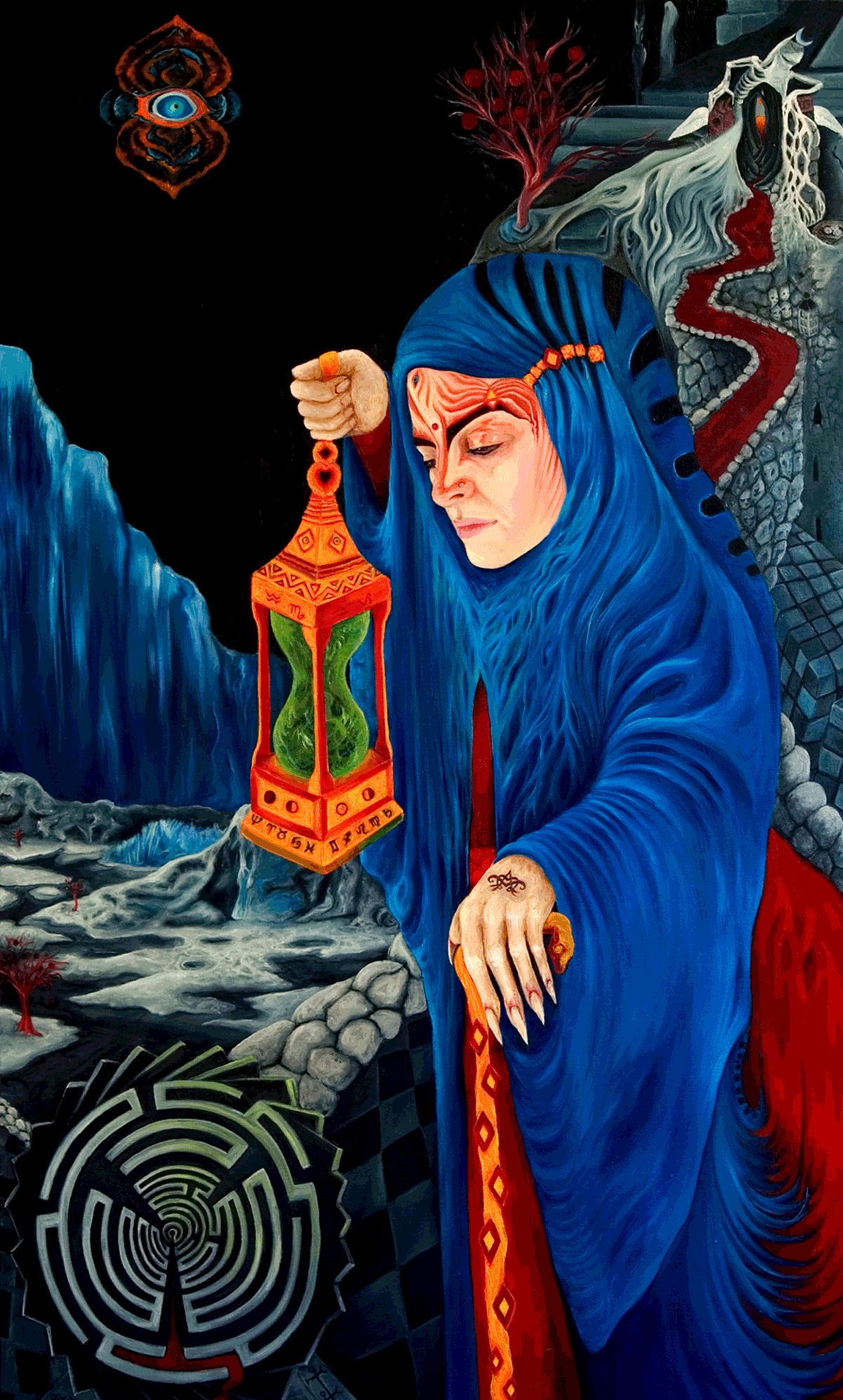 "The Hermit"

5 ft. x 3 ft., oil on canvas, 2005.
An-Magrith Erlandsen
Below is the "Tarot of the Magi"created for an art show in 2011.
It integrates the elements of Bellydance Theater and Belly Tarot,
within Fine art painting. An-Magrith's performance name is "Magi".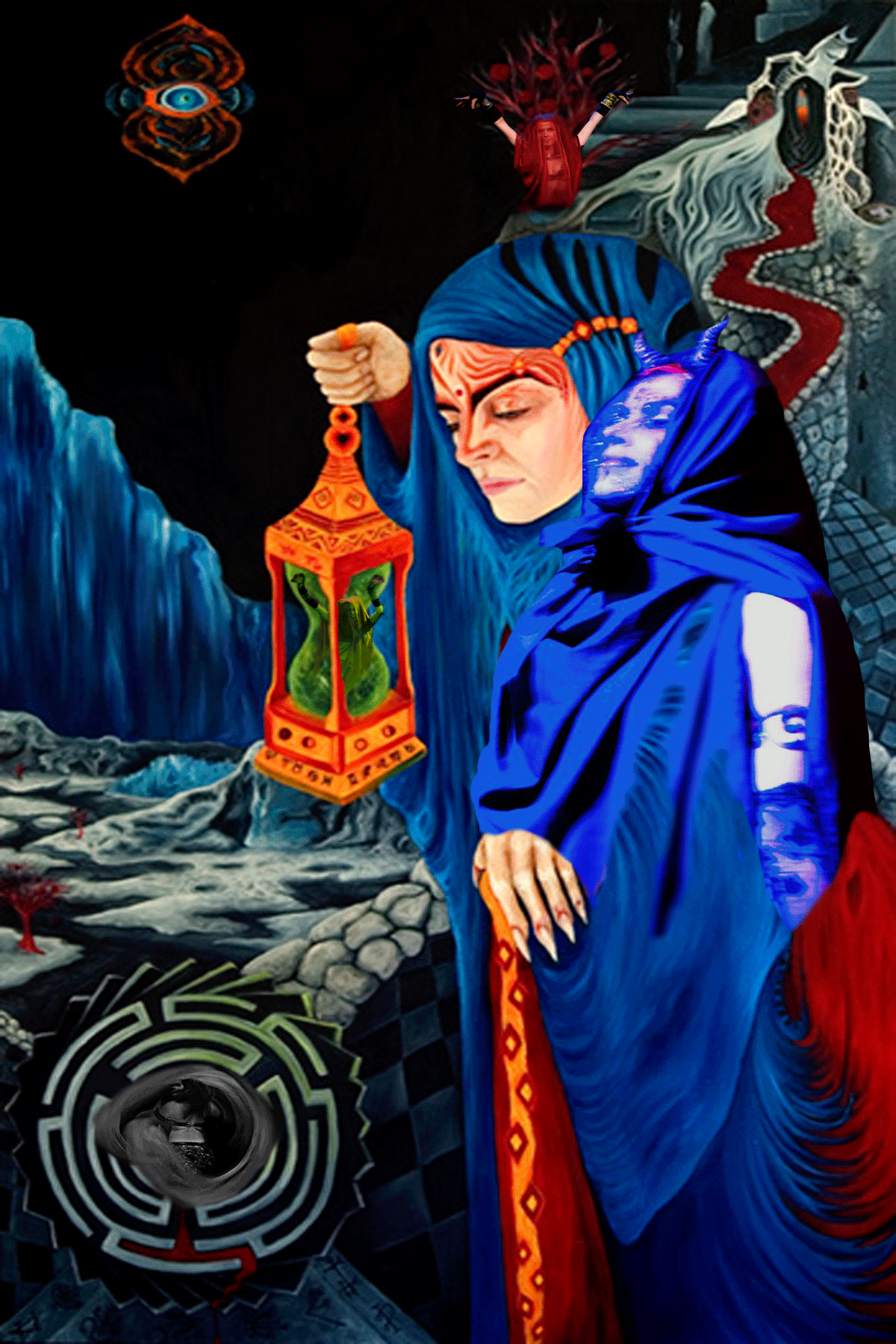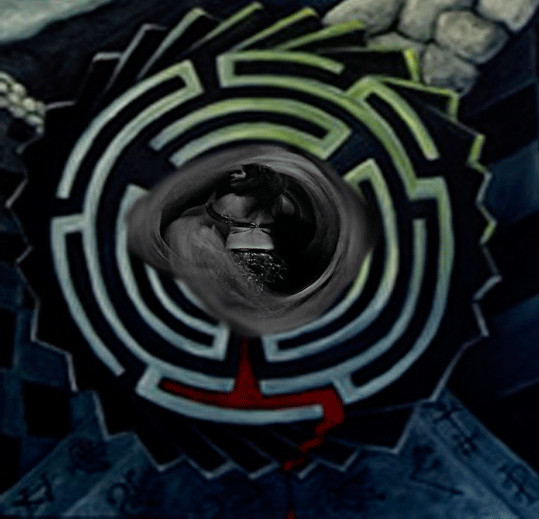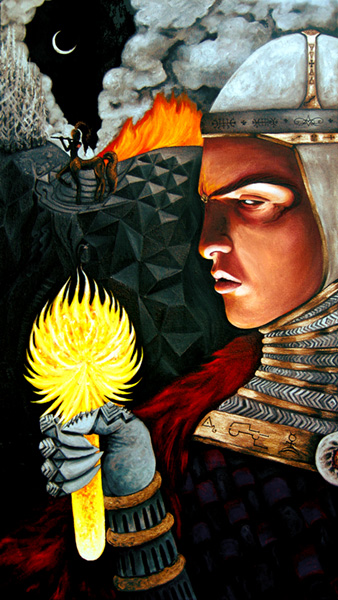 "The Knight of Wands"

42 in x 24 in., oil on canvas, 2003.
An-Magrith Erlandsen
| | |
| --- | --- |
| | |
The Magician - An-Magrith Erlandsen

Oil on canvas / 5.2 x 3 ft. 2006

She sits with the symbols of the four suits before her, dagger is sword, coins are the disks, chalice is cups and the branch in her hand is wands. The dagger has cut the pomegranate revealing more than fruit. The monkey entwined about her arm chews on the other half of the pomegranate which resembles a human heart. It could be fruit or flesh, what is your perspective? You choose. The Magician's arm covers a book of the Tarot of the Pomegranate, the same book the High Priestess holds in her hands. The Magician sits inside an otherwise walled up doorway, she has access to the other side. She has all the elements she needs to continue on her journey but she is not sure what they all mean yet. The Magician is the first card in the Tarot, the beginning. The table reveals a foreshadowing of the darkness and light to come.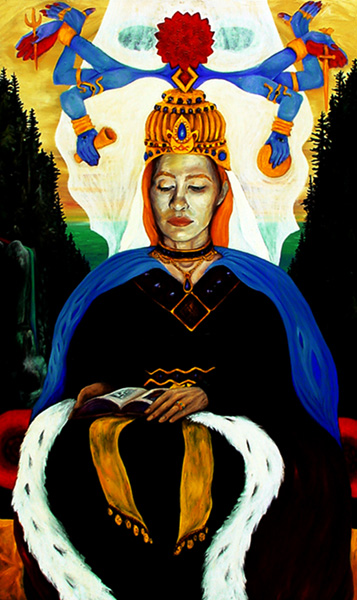 "The High Priestess"
5 ft. x 3ft., oil on canvas, 1998.
An-Magrith Erlandsen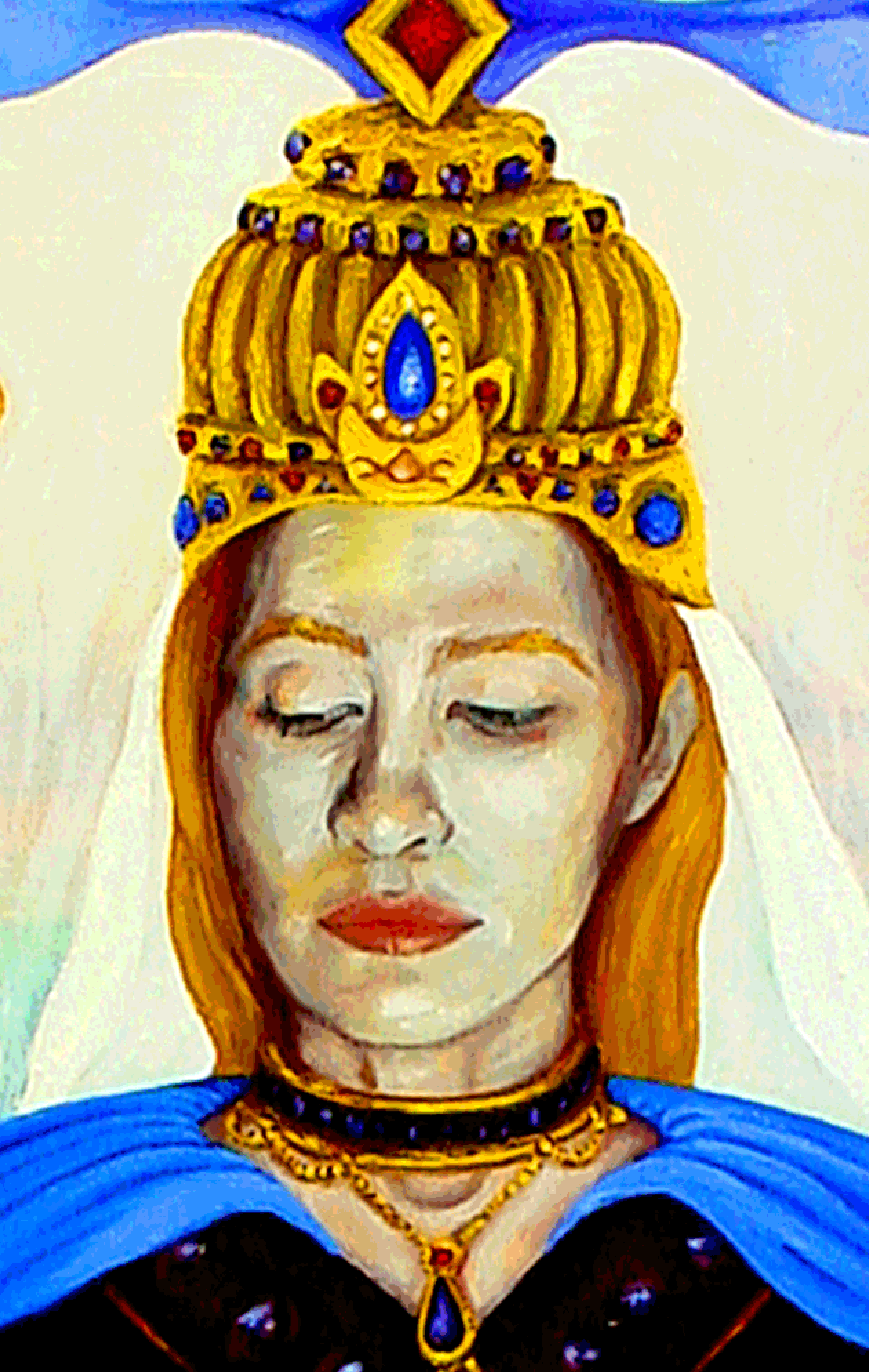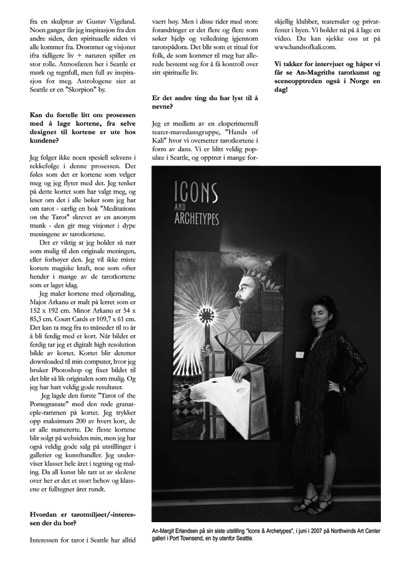 An-Magrith Erlandsen
at her art show
"Icons & Archetypes"
in the month of June 2007
at Northwinds Art Center gallery
in Port Townsend, a city outside of Seattle.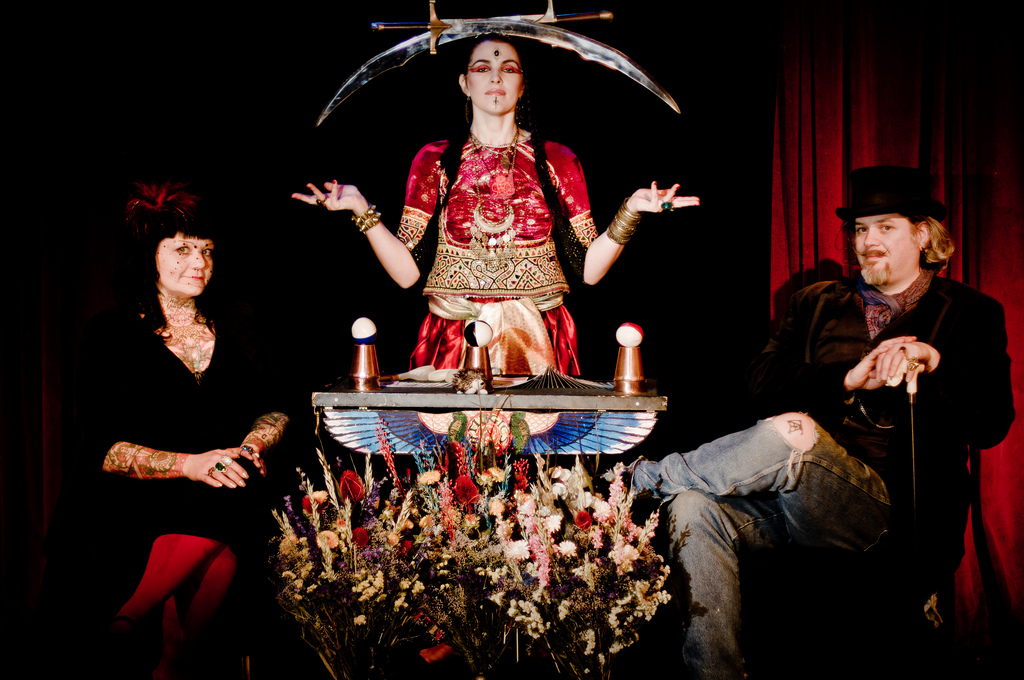 "The Illuminato Show"

Presented at The Jewelbox Theater in Seattle, 2011-2012.
photo by Michael Cline.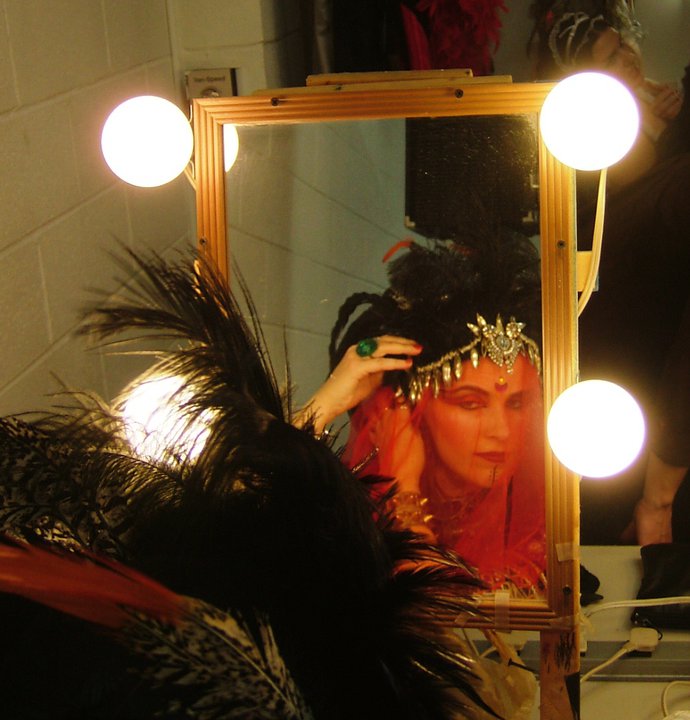 Magi Preparing for a Bellydance Theater performance.
photo by Diana Lynn Law, 2012.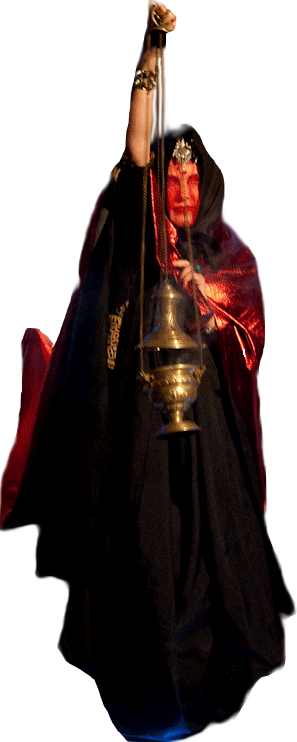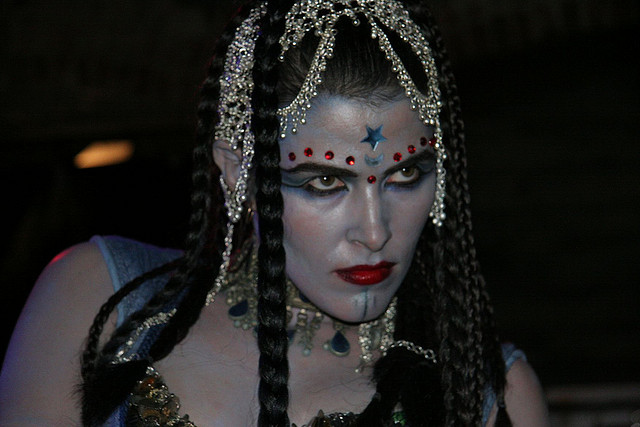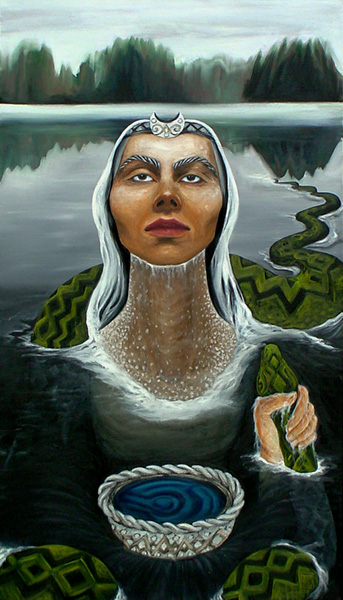 "Queen of Cups"

oil on canvas, 42 in x 24 in, 2002.
An-Magrith Erlandsen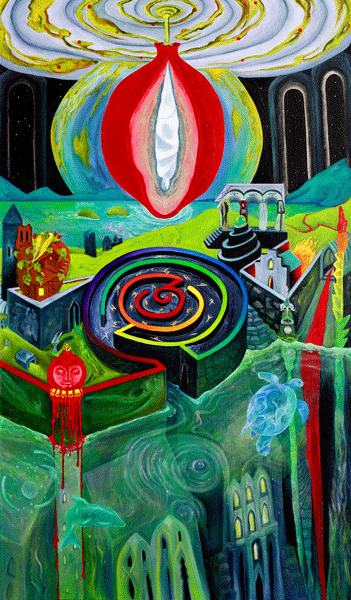 "The Hanged Man"
5 ft. x 3 ft., oil on canvas, 2009.
An-Magrith Erlandsen
the cocooned figure hangs in a pomegranate over the aquatic labyrinth
swirling with Runic Symbols. A Surrealistic translation of Odin
hanging over the waters from the Yggdrasil, and discovering the Runes.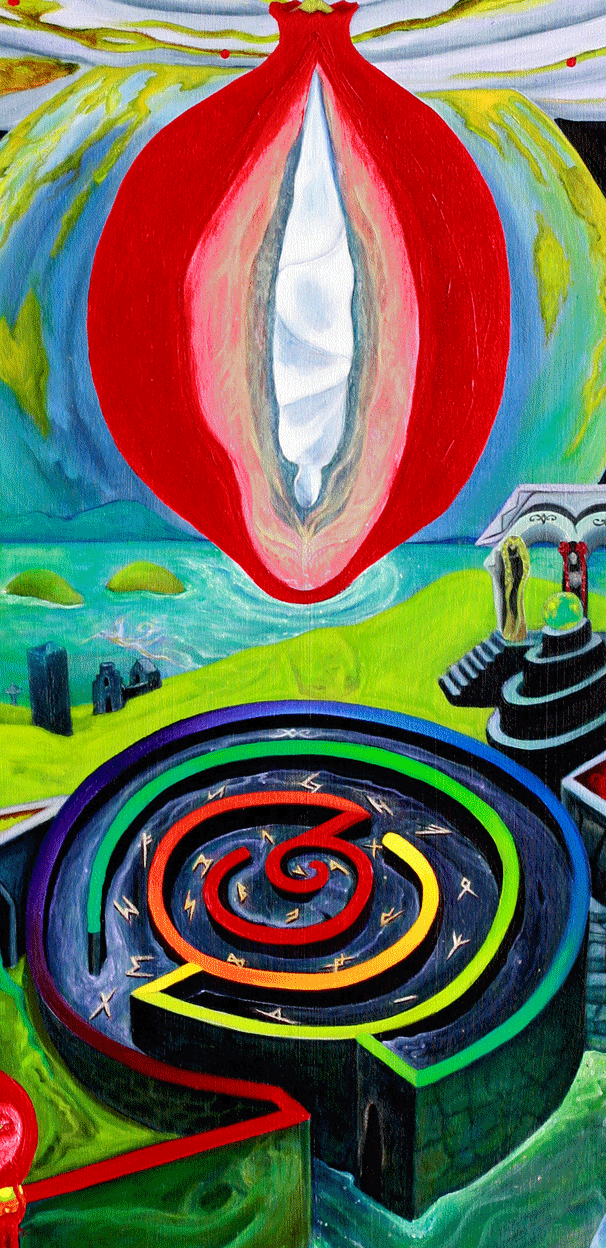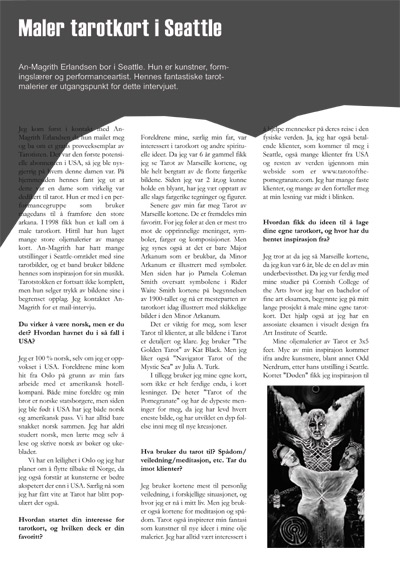 Painting Tarot cards in Seattle

An-Magrith Erlandsen lives in Seattle. She is an artist, fine art teacher,
and a performance artist. Her fantastic Tarot paintings are the
focal point for this interview.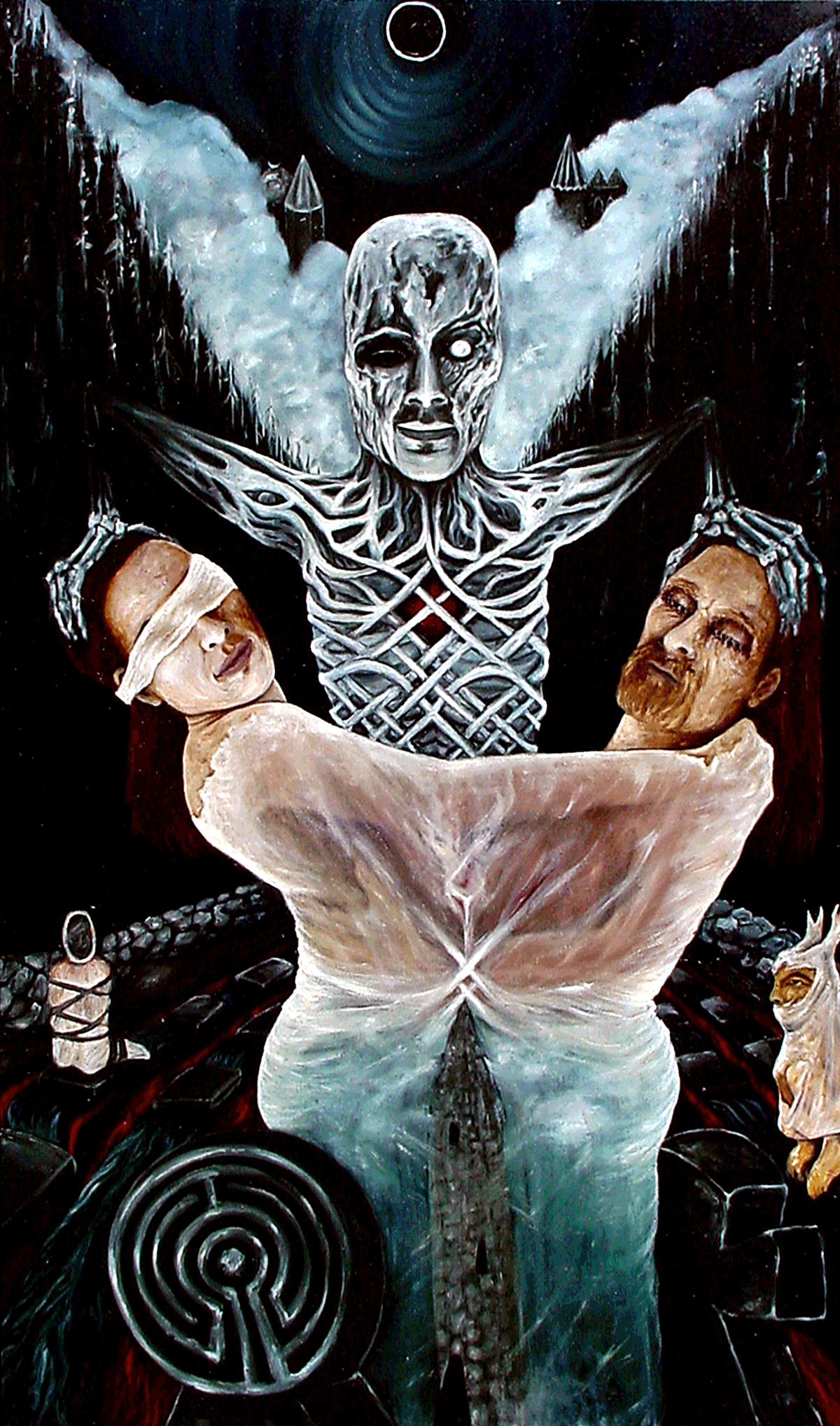 "Death"

5ft. x 3 ft, oil on canvas, 2000.
An-Magrith Erlandsen
This painting was inspired by a Gustav Vigeland
skulptur in Oslo's Vigeland Parken.

An-Magrith spent many days photographing Vigeland parken in Oslo in 1998
using black filtered infra red film. As a child and over the years she visited
the park numerous times with her family. In 1995 she visited the park on its
100th anniversary. It was raining. She cut a dark video about the park
that same year integrating music she'd created for the piece, and dance.
The video was named "The Yggdrasil Tree" . It was presented
in the main gallery at Cornish in 1996, and noted as
one of the most powerful art pieces to
spring out of Cornish that year.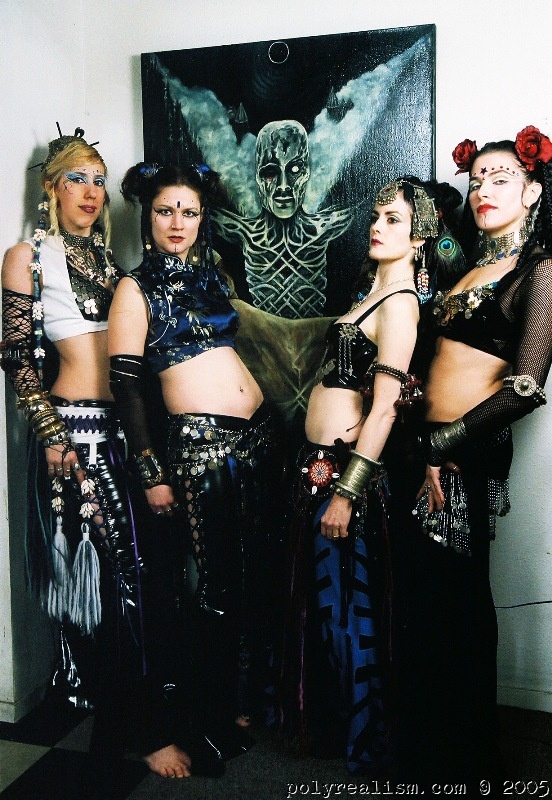 T
he

"Death"

painting and Belly Tarot dancers.

Magi stands at the far right.

photo by Poul Costinsky, 2005.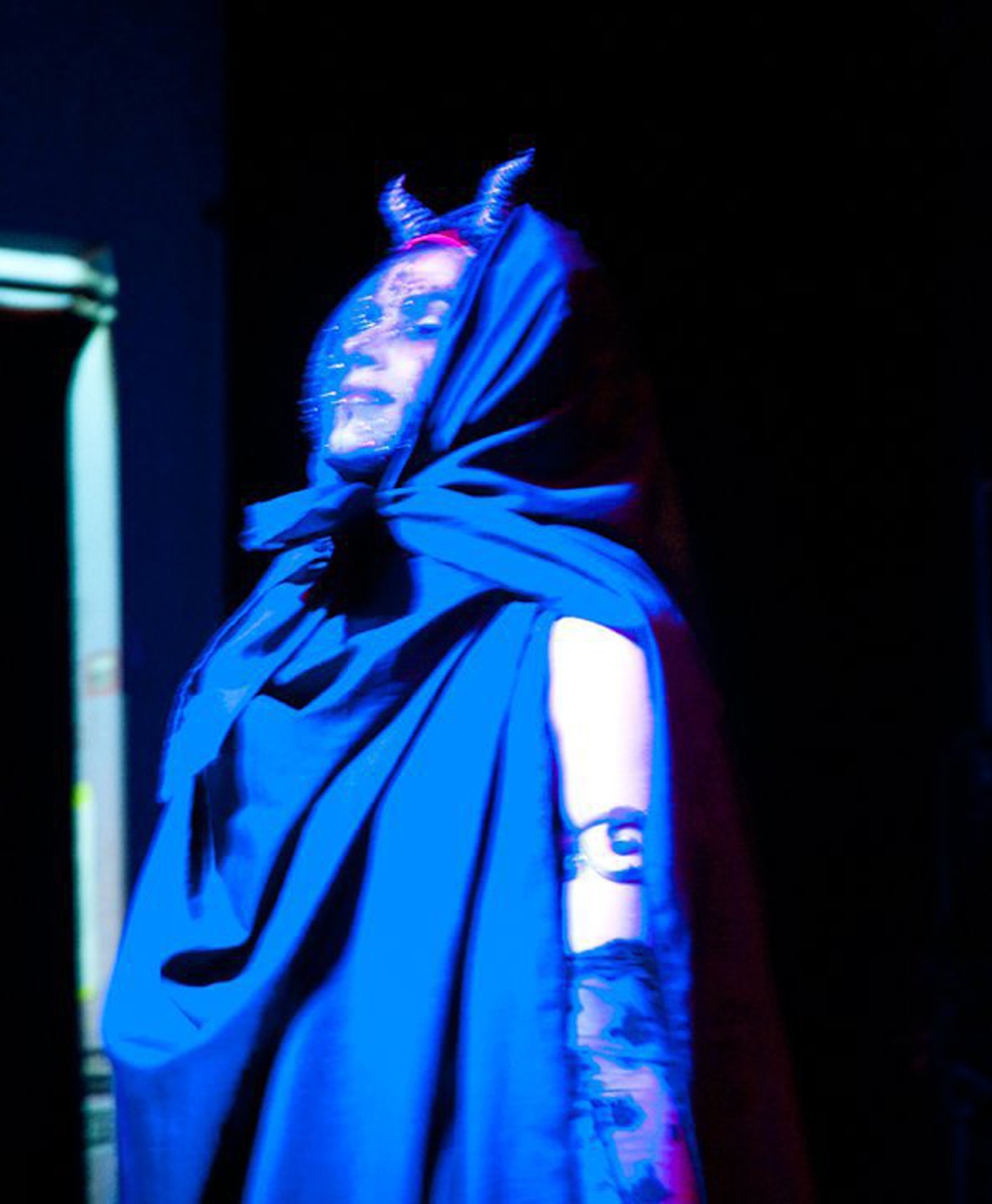 Magi, Bellydance Theater Performance at the High Dive in Fremont.

photo by Stanford Wilson, 2011.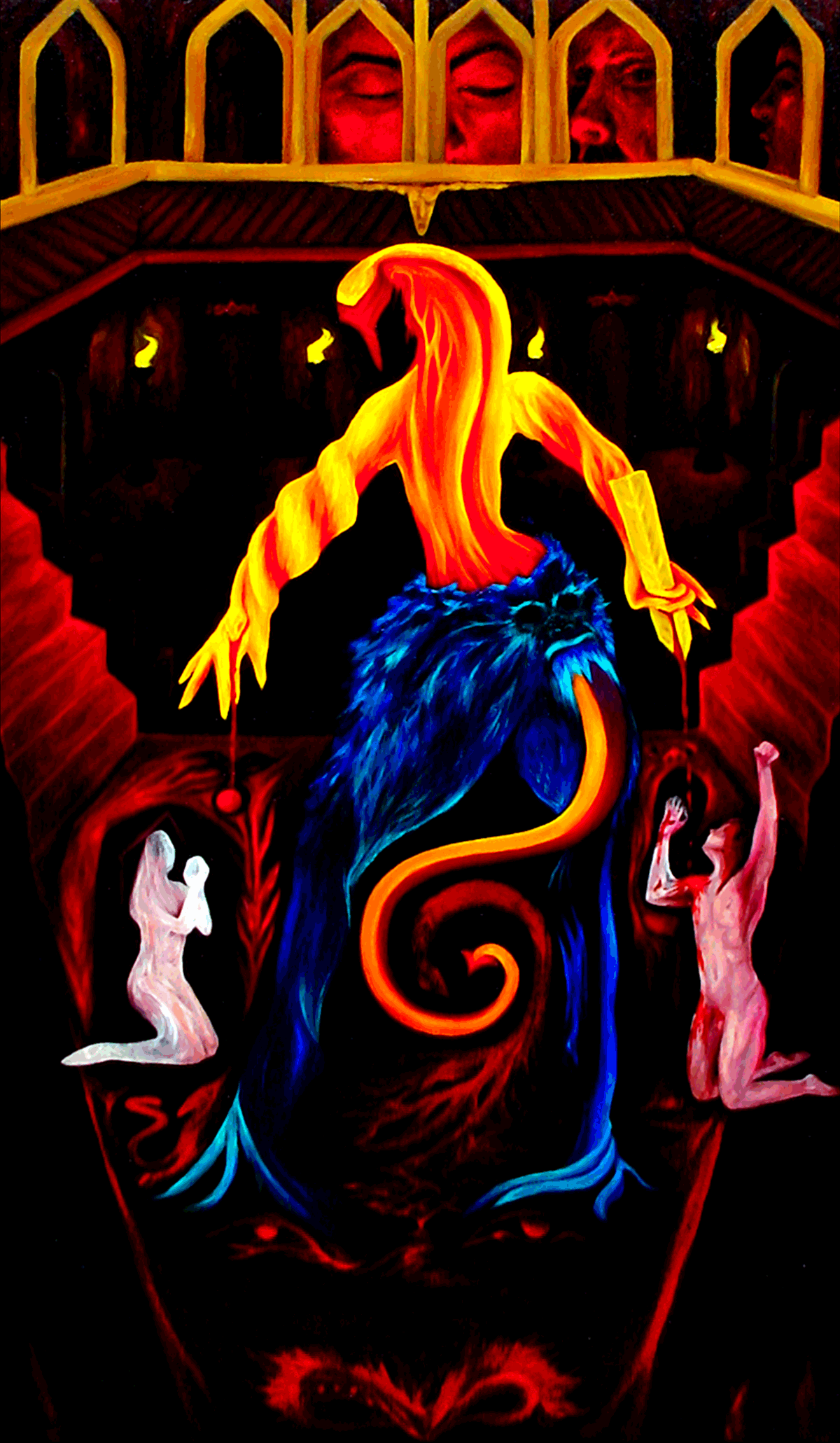 "The Devil"

5 ft. x 3ft., oil on canvas. 1999.
An-Magrith Erlandsen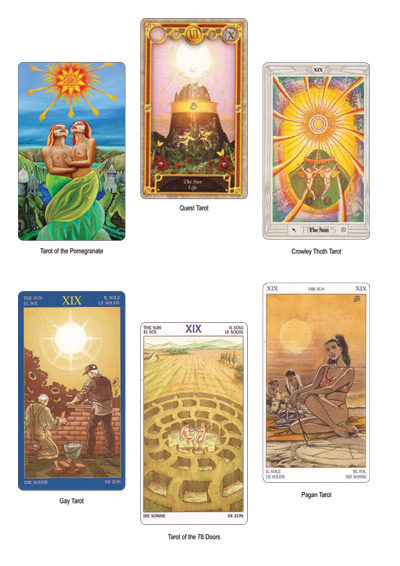 "The Sun"
represented by several Tarot decks including
Tarot of the Pomegranate